AMS has been a leading provider of high-speed non-destructive testing, parts cleaning, and related services for the automotive, transportation, aerospace, medical device, and consumer product industries since 1995. Our team has conducted comprehensive and detailed testing on safety critical automotive components, defense contractor materials, medical device components, and aerospace parts, among others.
We have a rich legacy of high speed, high volume inspection in a mass production context using ultrasonic inspection, acoustic resonance inspection and electromagnetic inspection, testing anywhere from 20-50 million components per year at our sites in Phoenix, Cincinnati and Guanjuato, Mexico.
We developed our award winning family of SmartTest™ products around the experiences we gained from running high-speed, high-volume inspection in our own test centers. Simply put, we've lived what you live. After literally tens of millions of units inspected with legacy acoustic resonance inspection systems, we were concerned with defective parts escaping to customers, frustrated with inadequate defect detection and high reject rates, and irritated by downtime and poor productivity provided by the legacy systems. We developed SmartTest™ and put all these concerns behind us.
Our In-House SmartTest Experience
We began developing what is now called SmartTest™ in early 2018. By mid-year 2018 we committed to upgrading the legacy ARI systems in our Phoenix test center to SmartTest™. At that time, we had three work cells running high volume inspection on an automotive program. All three work cells ran two 10 hour shifts per day. Annual volume for this program was in the range of 15 million pieces. Upgrading the three work cells to SmartTest™ yielded the following:
Downtime reduced from 40% on legacy systems to ZERO, literally, zero (calendar 2019) with SmartTest™
Work center productivity improved from ~60% to > 90% (calendar 2019)
Cycle time reduced from 6 seconds per part to 1.8 seconds per part. (metal stamping application requiring process compensation)
Throughput improved from 400 pieces per hour to 1700 pieces per hour at each work center, a four-fold increase!
Second shift eliminated, approximately $250k in annualized labor savings
Payback on upgrade costs 4.8 months
Of course, we may not be able to help you to the same extent, your situation may be different than ours. But should we have a conversation?
We're very honored to announce that AMS has been recognized by CEO Monthly magazine as
"The USA's Most Innovative High-Speed Testing Firm of the Year, 2020"
. The award recognizes our development of the industry leading SmartTest™ line of acoustic resonance inspection systems.
You can read the full article here.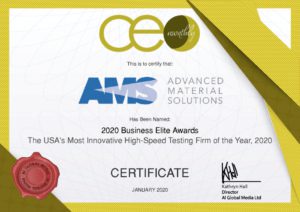 Help customers prosper by:
Insuring the integrity of incoming material pipelines
Improving operational costs
Continually improving our management system and business practices
AMS uses a certified quality, environmental, and health and safety management system (QEHSMS), as evidenced by our various certification:
We've also been recognized by CIO Review magazine as one of the "20 Most Promising Manufacturing Technology Solution Providers – 2020". This award recognizes 'Next Level' flaw detection with SmartTest™ Advanced Resonance Inspection Systems.
You can read the full article here.