SmartTest™ Acoustic Resonance Inspection Systems
Acoustic resonance-based techniques are commonly used as an applied NDT tool in the manufacture of numerous types of parts. Our SmartTest™ acoustic resonance inspection systems offer an innovative solution for detecting defects in sintered metal, cast, forged, stamped, machined, and many other types of components.
SmartTest™️ Product Range
The SmartTest™️ line of testing equipment from AMS offers industry-leading defect detection, throughput, and productivity.
Off-the-Shelf

SmartTest™

Systems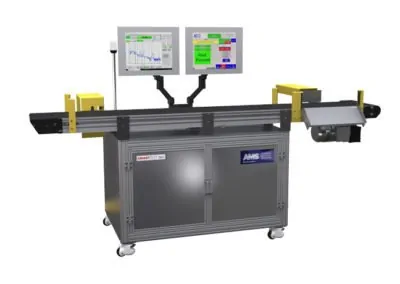 SmartTest™ Pro Plus
Same as the SmartTest™ Pro system with process compensation added for applications complicated by weight variation
SmartTest™ Mini
Semi-automated, excitement via drop impact, high volume, small parts to 250 g, 8 cm (3.5 in.) max dimension
Custom Systems
Variants to SmartTest™ Pro or Mini
Turnkey versions of either acoustic resonance inspection system designed to meet your specific needs
SmartTest™ Core
Core flaw detection elements of SmartTest™ only – you integrate into your own work cell and automation design
Low-Volume & Portable Systems
SmartTest™ Workstation / Workstation Plus
SmartTest™ Core placed on a static workstation
Legacy ARI System Upgrades
Upgrade your legacy acoustic resonance inspection system to SmartTest™ and achieve next-level results. Legacy systems younger than 8 years can be upgraded to SmartTest™ flaw detection:
Modal Shop "NDT-RAM"
Impact NDT "ART"
Others
Context
Typical Cycle time
Throughput pr.Hr.
(85% OEE)
Applications
Bandwidth
Resolution
Process Compensation
Part Conveyance
Reject Containment
Reject Capture Sensing
Default Configuration
Price
12in x 8 ft cut resistant belt
12in x 8 ft low friction belt
Semi-automated Drop Impact
36in 'V' or 'U' infeed chute
18in x 18in replacable platform
Low Volume / Experimental
12in x 6 ft low friction belt
** Legacy system functionally equivalent to SmartTest™ Pro Plus, i.e. includes process compensation
++ Customer Provides Own Integration
Scroll for more
Buy a SmartTest™ product and enjoy the most advanced ARI system available anywhere. Depending on the age of your system and the circumstances, we often upgrade systems from EZ-NDT, Magic, Impact NDT, and/or Modal Shop. While you may not have all the features that come with a turnkey SmartTest™️ Pro or Mini, you can still enjoy vast improvements to defect detection while greatly reducing the number of false rejects. The huge increase in throughput translates to much-improved shop floor productivity and much lower inspection costs, making operations, quality, and even finance teams all happy.
We Solve Problems
Businesses contact us when they're:
Concerned with faulty components proceeding to the product assembly stage or, worse yet, reaching their customers
Unhappy with high reject rates and insufficient defect detection in current inspections
Irritated by the high cost of visual, X-ray, Penetrant, Magnetic Particle, and related inspection techniques
Frustrated by the suboptimal productivity and system downtime from existing inspection systems
Our award-winning SmartTest™ product line addresses these specific concerns.
Do you share any of the above pain points? Let's have a conversation.
Applications and Use Cases of Acoustic Resonance Inspection
Critical industries rely on acoustic resonance inspection as a highly accurate NDT option for high-speed, high-volume detection of structural flaws in critical components. Our SmartTest™ system serves the following applications and industries:
Sintered Metal
Ductile Iron
Automotive
Specialty Vehicles
Firearms
Medical Devices
Consumer Products
Casting
Machining
Stamping / Forging
Why SmartTest™️?
SmartTest™ Acoustic Resonance Inspection systems deliver industry-leading defect detection, throughput, and productivity via unique-to-us hardware and software features that maximize results across all categories. Achieve next-level results with SmartTest™.